MYTH TFL PATCHES
Myth TFL Patch 1.5
Myth: TFL 1.5 features OpenGL rendering for OSX & Windows, and 1.3 film playback, among other changes.


Downloads
Myth TFL 1.5 (Mac)
Myth TFL 1.5 (Windows)
MYTH TFL TOOLS
Fear & Loathing for TFL
More Info
In the past, TFL map editing was only for the brave or privileged, and often both. Brave, because if you didn't have Bungie's development tools, you had a world of hex-editing and buggy, ineffective editors to use. Privileged, because there were very few people who had the Bungie tools at their disposal, and those who had them were very good about keeping them out of the public's hands. Both, because even if you had these tools, there was no documentation for them, and they too are incomplete and buggy.

So here, finally, Project Magma makes these once off-limits tools available to you with the added benefit of documentation. What I (DeadMan) have done here is take the existing documentation from the Myth II Fear and Loathing tools and retrofit them to make sense with the TFL beta tools. Most of the text within these documents is not my own; Rather it is the work of those in the credits section, under "original text".

MYTH TFL NETMAPS
Ghôl Rugby
Download
Project Magma is proud to release the first original gametype for Myth:TFL: Ghôl Rugby! Having taken over 2 years in development and testing, Ghôl Rugby pushes the TFL engine to it's limits in order to provide an entirely new style of gameplay. Not only is Ghôl Rugby a brand-new gametype, it's also the first original gametype in Myth history that is FFA-based; Expect intense 4-way Rugby action!

The object of Ghôl Rugby is to get the ball (a flaming dwarf head) into your goal, and score more points than your opponents. However, this can be done many different ways; In order to win, you will need to carry, toss, shoot and blast the ball into your goal with a varieity of specialized units. Because of the many strategies you can use in Ghôl Rugby, you will find plenty of enjoyment playing solo or on a team.

As this is an original gametype, it plays very differently from the Myth you're used to. As such, we have also included a special training variant of the plugin, aptly named "Ghôl Rugby Training". This will give you a crash course on how to play and allow you to get a feel for how the units work. Although the training variant covers some very basic things about Ghôl Rugby, we also recommend that you check out the Ghôl Rugby site, as everything is covered there that you will need to know in order to devastate any person or team that faces you. We suggest you read it carefully, it may mean the difference between a commanding performance or a laughable defeat.

At only 3.3 megs, Ghôl Rugby is also one of Project Magma's smaller plugins. Download it today and join in for some Rugby!

Demise on the Plains/Mazzarin's Demise
Download
Plains completes Project Magma's initial goal of porting all nine original Myth 2 maps to TFL and is possibly our most unique and interesting plugin to date. We skipped Raid on the Plains, but you'll find Demise on the Plains as well as three other FFA maps. Aside from the usual tactical abilities required in multi-play, Strife on the Plains also demands developing strategies like no other Myth map. Riot on the Plains is a 10-start Ghol riot with more than one bizarre twist to it. Slaughter on the Plains uses one of the most balanced and fun unit sets we can think of. Last, but far from least, Mazzarin's Demise, the long awaited and extremely addictive coop is included with this plugin. It pits you against the largest hoard of enemies ever seen in ANY Myth map. For more details, check out the coop section of this site.

As an added bonus, we have three Quicktime movies of the terrain courtesy of Oroboros; Panorama(155KB), Plains at Sunset(2.7MB), and Flyover(327KB) that demonstrate how much we loved working on this map.

Venice
Download
Venice superbly rounds out the popular collection of Magma Myth 2 ports. Long in the making, it required innovative scripting to recreate collapsible wall models in the Myth TFL engine. In addition to the standard Myth 2 variant, you'll find four other meshes in the typical imaginative and fun Magma tradition. From carpet-bombing wars using air-strike flares and mortar shells, to massive ultra-dark team carnage, to more traditional lighter FFA fare, you'll not want to miss out on this one.

Proving/Killing Grounds
Download
This popular Myth 2 map is now available for your TFL desires! Very true to the original, you will have just as much fun and excitement playing the light and dark meshes that were converted from Myth 2. However, that's not the end of it: In addition to the normal light and dark variants, expect to find new and original variants, such as a unit set full of all the giants the Myth series can offer! On other variants you might even find high explosives for your ghols to carry. As an added bonus, we have quieted the peasants to make sure you don't go insane while playing.

InCarn8
Download
This map was built for the Return of the Fallen Lords 2 tournament. In addition to the relatively small download, It features 8 light starts on the classic carnage set, to make for a delightfully bloody situation. With all the fun of normal Carnage Light - times 2, you can expect this map to deliver in full games. However, don't be surprised if you find yourself surrounded by enemies... this map is not for the timid! Required for the RotFL2 tourney, and a must have for the rest of you.

The Bad/Untamed Lands
Download
This Myrkridia-ridden wasteland is now yours for the playing! Huge amounts of scripting were required to make sure your TFL experience played as much like the Myth 2 one as possible, and this map comes through in colors. Not only that, you have three new meshes to battle your friends on. Also included is a giant slugfest variant - great for some classic TFL fun on a brand new map. Expect all new levels of gore in this wonderful new barren wasteland.

µnity 3
Download
In addition to paying tribute to the Unity series authored by Clan Bear, this giant map collection also strives to be the next in the series -- to which is succeeds wonderfully. Expect not only to find creative new unit sets to try out many a new strategy on, but also converted Myth 2 units as well, such as the Ghast, Mortar, Stygian Knight, even Alric and Balmung! There are many variants to play, but we at Project Magma definitely suggest that you don't miss "Soulblighter's Revenge" and "Sluglords- Anarchy".

DeadMan's Chest/Float
Download
As ported to TFL, you'll find a few differences in this version compared to the original. Gameplay is as great as can be on the standard light and dark meshes ported from Myth 2, however there are also many other variants to play. One of the more popular meshes, "Dead Man's Treasure", features 4 different armies with completely different unit sets for a new twist in multiplayer TFL. The map also features a blind slugfest variant for you slug fans.

Drowned Kingdom/Empire
Download
While this map needed to be modified in order to be successfully ported to TFL, it's still as fun as the Myth 2 version. In addition to the two standard light and dark meshes, we have included three others to make this swampy experience a bloody one! Expect large sets of all shapes and descriptions to compliment this wet environment. You'll find your good old TFL units alongside with the converted Myth 2 units on many occasion, which provides for new strategies and challenges.

Cracks/Clash in the Cloudspine
Download
This classic Myth 2 map is now available to TFL fans, and it delivers! Models have been ported to make your TFL Cloudspine experience as genuine as possible, and there are no gameplay sacrifices. In addition to the standard light and dark meshes found on the Myth 2 version, you'll also find several fun and exciting new ones, all great for team play. One of these meshes features a giant ghols vs. dwarfs war, and another features a giant carpet bombing unit set.

Dead of Winter
Download
The most chilling Myth 2 standard map is now available for TFL desecration... If you feel that the snow is too white, so do we-- That's why we fully expect you to be coloring it with your troops! This very beautiful landscape is complimented by the enormous levels of gore which are spilled upon it every time this map is played... a truly wonderful TFL addition! Four new team variants are included for all your violence-related needs.

Gimble/Gyre in the Wabe
Download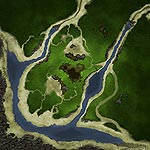 Perhaps one of the most popular Myth 2 maps out of all of the Bungie originals, Wabe is now available in TFL! Fight with your comrades on the hilltop, Wight the hell out of your unsuspecting victims, and enjoy the beautiful scenery that is Wabe in all it's glory. Also, explore the three new variants included in the plugin for even more varied experiences on the map. Arguably just as addictive as the Myth 2 original, so beware...

MYTH TFL CO-OP MAPS
Mazzarin's Demise II
Download
After scores of enjoyable games of the original Mazzarin's Demise, we decided to try to perfect it. Version 2 includes almost 100 improvements, tweaks and surprises, most notable of which is you can now play with up to eight players. You'll have to defeat several hundred more enemies who swarm at you at a more hectic pace; however, your own forces are now more powerful. Overall, the map is only slightly harder than the original, but we think it's much, much more fun and action-packed. Get the plugin before you're left out and stuck all alone in the lobby.

Congrats to Head, McChazo, HadieZ, Boy, Ducky, Rabiez and Kalamadea for being the first team to beat Mazzarin's Demise v.2 on Legendary. You can watch this team's amazing skill and tactics by downloading the film here.

Mazzarin's Demise
Download
Mazzarin's Demise is a coop map much in the style of Shadow 2 and Flight 2 but with nearly twice the amount of enemy units of both maps combined! Journey back to the Wind Age with the most powerful Avatar to ever live and his army of heroes armed with enchanted weapons. History tells us that The Watcher laid an ambush so massive that even Mazzarin, finally spent of all his magic, was eventually surrounded and crushed under endless legions of undead. We dare you to prove there may have been a different outcome.

Congratulations to Apollo, Atombomb, Hadiez, McChazo, Rabiez, and Wrath for being the first team to beat Mazzarin's Demise on legendary difficulty! As their prize, they will each get a GfA2 CD. You can grab the film here.

This coop is part of the multi-player plugin, Plains.

If you're having difficulty defeating the watcher (as is to be expected), check out this analysis of Mazzarin's Demise by Oroboros.

Ambush at Devil's Overlook II
Download
You will face all new challenges on this new variant of the TFL solo classic, which will require of you and your teammates unconventional strategies for a solo map. Joining forces with your grenade-throwing pals are those electrifying fetch- you now have lightning at your fingertips to dispatch the hordes upon hordes of soulless! However, in order to survive, you and your teammates will find that the fetch and dwarves will have to work together... A must have for any connoisseur of more seedy tactics.

Flight from Covenant II
Download
Think your nimble? Quick? Think you can escape like you did last time? Think again. Waves and waves of evil will impede your progress, and challenge you like you have never imagined before. You will encounter countless thrall, mauls, wights, and your fellow dwarves turned against you in this forge through doom. However, don't despair altogether, you and your teammates have a some special archers, some help by a trusty mortar, and of course your many warriors to forge a path through the ranks of the undead.

Forest Heart II
Download
The Tain would be paradise compared to what you will encounter on this new variant of the TFL solo. Instead of being whisked away into the dark recesses of the Tain, you must face an insurmountable army, fight through wave upon wave of undead, and battle countless trow into gravel! Aiding your Forest Giants, you will have archers and heron guards at your disposal. Don't let confidence get in your way, this is not the same Forest Heart that you're used to-- you and your teammates will face many challenges, and a surprise at the end...

Shadow of the Mountain II
Download
Perhaps one of the most played solo levels of all time, Shadow of the Mountain challenged the most coordinated team on higher difficulties, and tested the tactical ability of any team captain. However, with Shadow II, your team will struggle through the most easy of difficulties. Waves upon waves of the dark, both undead, and your fellow comrades turned against you, will push you to the very brink of your tactical ability. To assist you, a mortar has joined your ranks, however you will need to rely on your own wits, and the skill of your teammates, to make it through the assault on the mountain this time...